"

Absolutely amazing...This is the kind of writing they do. It's about real life. It's about how you feel. And it's contemporary, gorgeous musical theatre."
— Lolie Ware, The Radio Collective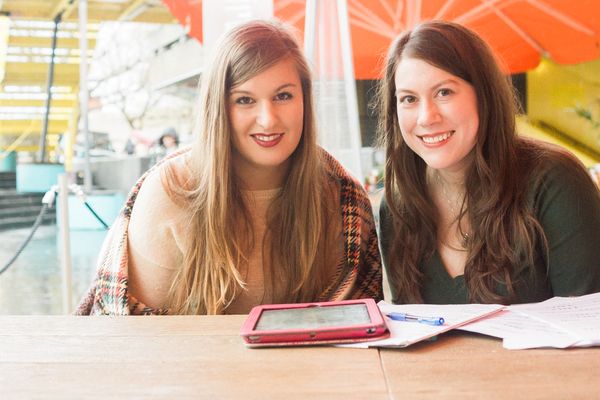 About Barlow & Smith
Composer Bella Barlow & Bookwriter/Lyricist A.C. Smith are a new musical theatre writing team who have been described as 'exceptionally clever' and a 'bright new songwriting team' by the Musical Theatre Review. 
In 2015, they were shortlisted for the Kevin Spacey Foundation Artists of Choice Awards, following a commission of new songs for two-time Olivier Award winner Janie Dee at the Globe Theatre for the London Festival of Cabaret.  They also they released their debut album of new holiday music "Christmas in the City", produced by Ian Shaw. Barlow & Smith have appeared as guests of Kerry Ellis, been featured artists of the week ("Duvet Date Icons") on JemmThree Radio, participated in The Arts Theatre Upstairs "Sunday in the Arts" New Writing Night, and have hosted their own evenings of songs at the Pheasantry and for Theatre Royal Stratford East's Musical Theatre Tuesdays.  Their songs have also appeared in the St James Studio, Aldeburgh Festival, Grand Northern Ukulele Festival, and the Theatre Royal Haymarket as part of Queen Elizabeth II's 90th birthday celebration gala. 
Barlow & Smith have created two short musicals for the RE:act new writing programme, 'The Game' which premiered at the St. James Theatre and 'The Next Step' for HighTide Festival. They are currently at work on a new musical, VANYA'S, which received a work-in-progress sharing at the Criterion Theatre, and has received support from the Old Vic Workrooms for its next stage of development.
They are represented by Rachel Daniels at Berlin Associates.
Bella Barlow
Bella Barlow (composer) holds an MA in Musical Theatre with Distinction at Royal Central School of Speech and Drama where she wrote her thesis on the compositional techniques of Stephen Sondheim.  She earned her BA with honors in Music from the University of Southampton, gaining firsts in songwriting, harmony and counterpoint, orchestration, performance. She also holds a DipLCM from the London College of Music in Musical Theatre, a higher qualification for teaching and performance.  She has worked as musical director and composer for Youth Music Theatre UK on The Frogs (Kingston), The Grand Budapest Hotel (Skills Course), Let It Snow (Christmas Show), Shakespeare - The Whole Lot (Leeds), was assistant musical director for Soul Music (written by Craig Adams and Andrew Doyle). Bella has composed music for Swann and Company presents… (Edinburgh Festival), Cinderella (4PANTS – Embassy Theatre), 'Calling All Divas' (Pheasantry) as well as orchestrator and composer for Another Life to Live (Ondaatji Theatre).  Bella also works widely as a singer and performer, and is a member of the West End Gospel Choir. www.bellabarlow.com.
A.C. Smith
A.C. Smith is a bookwriter and lyricist who was shortlisted for the Perfect Pitch Award in 2013 & 2015. She has been a member of the Book Music & Lyrics (BML) Workshop, participated in the Royal Opera House's Librettist Development Scheme 'The Singing Word', studied songwriting at the Institute of Contemporary Music Performance, and took part in the invitational Musical Theatre Intensive Workshop at Theatre Royal Stratford East led by tutors from the MFA in Musical Theatre at NYU. In 2013, she worked as a Writing Assistant supporting bookwriter Jeffrey Lane on the West End production of Dirty Rotten Scoundrels.  As a playwright, she has won awards from the Royal Shakespeare Company and Soho Theatre, and in 2016 was invited to be part of the Bush Theatre's Emerging Writers Group.  She has had her work produced at venues including Soho Theatre, RADA, Southwark Playhouse, Theatre503, HighTide, Rose Theatre Bankside, and Pleasance Theatre. She has also developed a specialism in working as writer/dramaturg with physical theatre and dance companies, including Theatre Re, Ciemulator Dance Theatre, and Jorge Crecis. She is Director & Co-Founder of London Playwrights Workshop, which actively works to support emerging writers. She holds a BA from Harvard and an MA from King's College London and RADA, where she has worked as Head of Academic Studies and currently teaches playwriting. www.ac-smith.com.